Family Systems Constellation and Other System Constellation Adventures: A transformational journey, by Francesca Mason Boring is a ground breaking comprehensive accompaniment for facilitators of family systems constellation, those who work in human services and healing professions, as well as the many who are open to solid resources for personal growth and development.
Family Systems Constellation expands the expertise and confidence of many who are already innately aware of its principles and mechanics.  If we step outside of the group conscience which has summarily excluded the wisdom traditions of the world and the many gifts that human beings seem to be wired with, it becomes incredibly easy to introduce Family Systems Constellation; it becomes easy to talk about, and we become less afraid that we will be excluded.  In fact, there is nothing that we could say about this work that people do not seem to know innately.  As you read this book, you will begin to understand why that is true.
Family Systems Constellation has expanded to include a wide swath of applications which are summarized, and the historical challenges which inhibit 'healers' in the United States and elsewhere are examined.
Provocative, Encouraging, Joyful!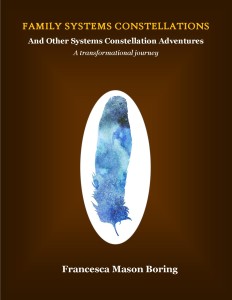 Click Here To Order